PRESS RELEASE
Sanni Beucke participates in the Ocean Race 2023
Professional sailor Susann (Sanni) Beucke, Olympic silver medallist in the 49erFX, will be the first German woman to compete in the Ocean Race in January with the "Holcim-PRB" team led by skipper Kevin Escoffier. The regatta covers 60,000 kilometers around the world in seven legs. Alongside the Vendée Globe, it is considered the toughest test in sailing and takes place every four years. On January 15, the eleven teams start in Alicante, Spain. From there, their route takes them via South Africa to South America, to the east coast of the USA, on to Northern Europe and finally to the finale in Genoa, Italy.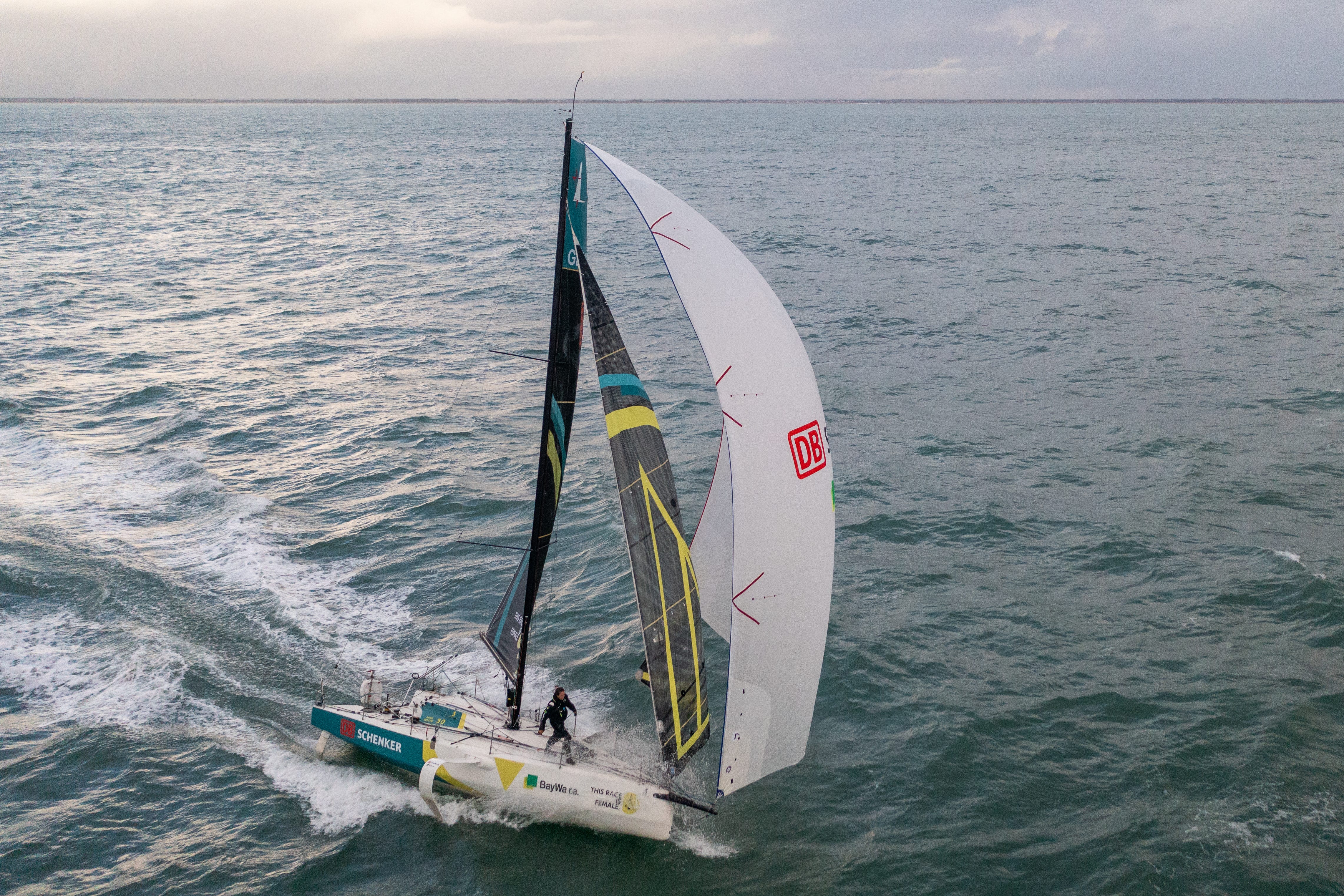 Sanni Beucke, 31, only switched to offshore sailing at the beginning of 2022. Since then, she has been living in the sailing mecca of Lorient, on the west coast of France. With her own campaign "This Race is Female" and a racing yacht of the "Figaro Class", she successfully entered the new world of offshore sailing. She is supported by her main sponsor DB Schenker as well as other partners.
"For me, a lifelong dream is just coming true," says the Kiel native. In 2002, when the "Illbruck" was the first and only German team ever to win the then "Volvo Ocean Race" in Kiel, of all places, I was on the water with my family to accompany them the last miles to victory. There were 300,000 people there. It was incredible. I was nine years old at the time. Since then, I've had the dream of sailing in the Ocean Race myself. Now it's about to start. It feels fantastic."
Sanni Beucke completes the Swiss team "Holcim-PRB" (formerly PRB) led by sailing professional Kevin Escoffier. The Frenchman has already won the "Volvo Ocean Race" in 2018 and is also considered one of the favourites in 2023. "I am proud that Kevin asked me to join his team. We met in France this summer, and he invited me for a test sail with him and his crew. After that, I participated in the "Solitaire du Figaro." That's an incredibly challenging regatta series that demands everything from you."

In late fall, Escoffier asked the German professional sailor if she could imagine competing not only in the Figaro class in 2023, but also in the Ocean Race. "I wanted to decide this together with my partners, so I asked for some time to think about it," says Sanni Beucke. "But they enthusiastically agreed right away - although my preparation for the Figaro races will certainly suffer a bit. But the Ocean Race got everyone excited."
Yet, one question remains; why does she put herself through this physical ordeal with weeks of deprivation in a racing yacht made from carbon - without any beds or toilets?
She says: "Because it's pure sailing. It's going to be incredibly tough. That's already a given. I think it's in my nature wanting to test my limits in my sport. As an Olympian, I had to give everything I had to be successful in the end. I learned to see challenges as opportunities. Anything can happen, especially in the Southern Ocean. Only one thing is certain: I will come back more mature."
Because we're experienced, reliable, and focused on results, we've had the privilege of working with a host of fantastic clients.
PODCAST: FLOAT ORIGINALS
Sanni Beucke segelt das Solitaire du Figaro
Das Solitaire ist eins der härtesten Solo-Segelrennen. Noch hat keine Deutsche teilgenommen. Susann Beucke spricht in den float Originals über die neue Herausforderung.