"i am the master of my fate. i am the captain of my soul."
William Ernest Henley
How it feels to SAIL your first solo race...
Content from Youtube can't be displayed due to your current cookie settings. To show this content, please click "Consent & Show" to confirm that necessary data will be transferred to Youtube to enable this service. Further information can be found in our Privacy Policy. Changed your mind? You can revoke your consent at any time via your cookie settings.
Consent & Show
My first regatta
In mid-March, I sailed my first offshore regatta. It commenced in St. Gilles and led me on a 300 mile course (600km) along the French coast, around Belle île (the beautiful island) and back. During the first five hours of the race we had gusts up to 35kn with the wind coming from the side. During the race the boat quickly build up a lot of speed, it started to vibrate and the foils gave off a buzzing sound. I live for these moments!
Also, while sailing this regatta I got a first taste of sleeping, eating and living on a Figaro 3 all at the same time. The simplest things such as cooking or making coffee became quite challenging, whilst the the boat was constantly rocking. Watch me being really happy about a breakfast out in the sun and how I felt in the middle of the night when we had a technical issue with the spinnaker...
Content from Youtube can't be displayed due to your current cookie settings. To show this content, please click "Consent & Show" to confirm that necessary data will be transferred to Youtube to enable this service. Further information can be found in our Privacy Policy. Changed your mind? You can revoke your consent at any time via your cookie settings.
Consent & Show
Strong wind training
There have been so big storms over Europe in February and I got myself out onto water to train. Luckily the wind in France wasn´t as bad as in the north of Europe, but I have been sailing in gusts of 35kn.
What I loved most about the training was the sound of the hull, when sailing over 12 knots of boat speed (listen to it, right in the beginning of the video!).
As well during the training I familiarised myself with the fact that during a single handed race, I will have to get some sleep under deck in these conditions. I doubt I will ever get a good rest! :)


Content from Youtube can't be displayed due to your current cookie settings. To show this content, please click "Consent & Show" to confirm that necessary data will be transferred to Youtube to enable this service. Further information can be found in our Privacy Policy. Changed your mind? You can revoke your consent at any time via your cookie settings.
Consent & Show
some information about my boat
In this blog I take you on my boat and show you the inside of it. The boat is more of a racing machine and there is not much comfort, but you'd better see for yourself.
Afterwards I take you out on the water with me and I will show you which fittings are different on this ship, and it is therefore suitable for single-handed sailing.
Lorient - a town by the sea
A very typical sound in Lorient are the screeching seagulls. This is obvious because the town has a big fishing industry. And right there, in the middle of the fishing industry area, I took the cheapest AirBnB that I could find. Every day I grab my bike and ride to "La Base", the port. I am allowed to train with the "Lorient Grand Large" training group. A huge honour. Unfortunately, however, the language makes it difficult to participate in the training the way I would like to.
Summary after the First Two Weeks:
My first two weeks in Lorient, in this crazy sailing Mecca are over and I take stock:
It's a really challenging time for me here. Everything around me is completely new and in every area of ​​my existence I have to fight my way through.
On the water, I give everything to keep up with the experienced training group. I try to build up a relationship with my classmates and training partners, but this ain´t easy because of the language barrier and the fact that the French simply don't speak English, even though they can. Especially when the instruction during training comes in French over the radio.
I feel like I'm a student enrolling in a whole new degree abroad that's only for men. And that's how it is:
My time is divided between learning how to sail offshore, understanding the language and promoting my project.
And now back to the actual core issue:

Yes, it's damn hard to push my way through here, but I didn't expect that breaking out into offshore sailing would be easy. What is happening to me here is what I have armed myself and prepared for.


I am very grateful that I am very clear about what I want and have a VISION. This vision helps me to carry myself confidently through every situation.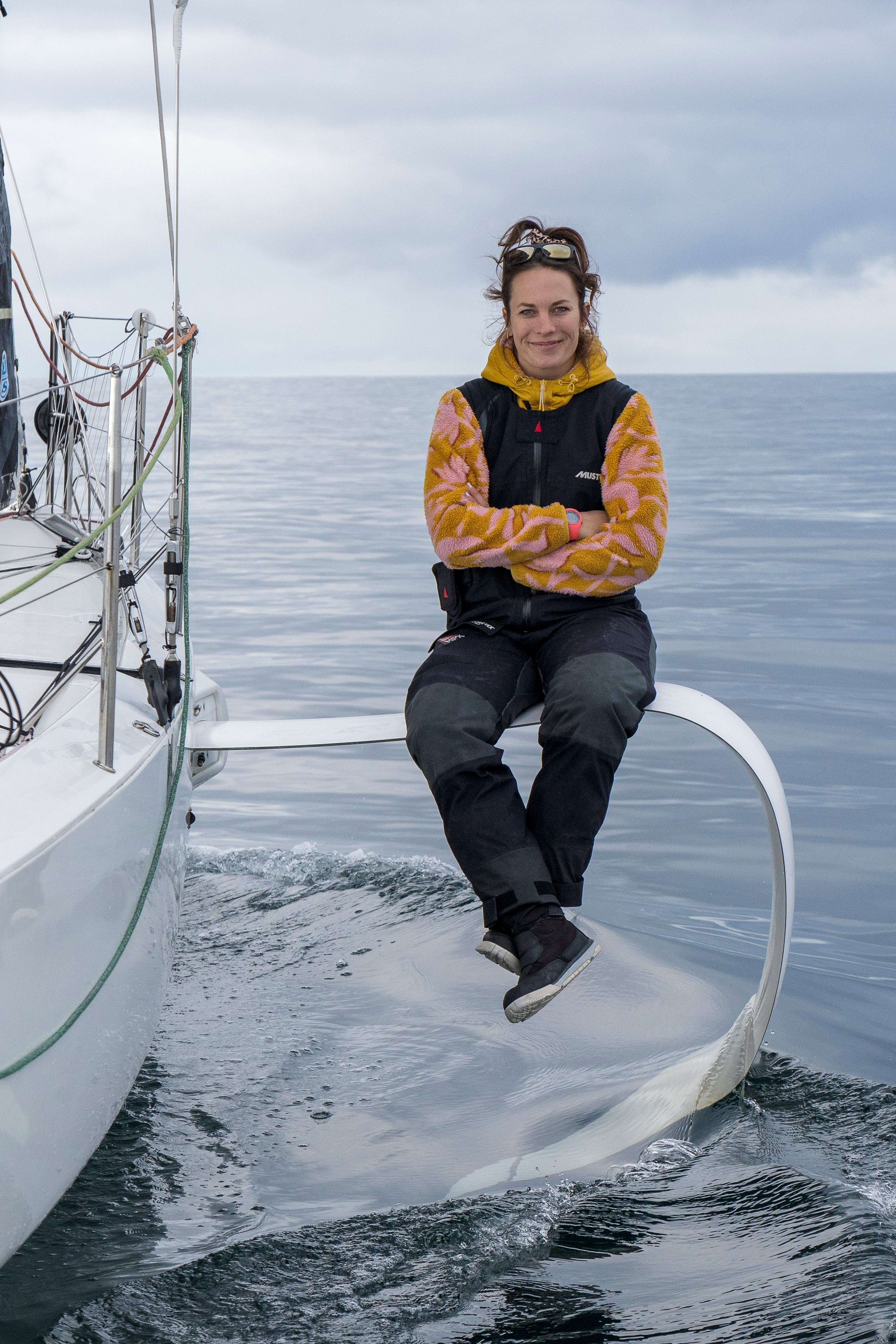 Content from Youtube can't be displayed due to your current cookie settings. To show this content, please click "Consent & Show" to confirm that necessary data will be transferred to Youtube to enable this service. Further information can be found in our Privacy Policy. Changed your mind? You can revoke your consent at any time via your cookie settings.
Consent & Show
Lorient-Day 4
I have been sailing for the last 14 years and in my life I have found that sailing is more than just a sport, it has become more of a way of life. I know many of my friends from sailing. It is very easy to make friends in sports, because everyone there ticks like you or has the same character traits. Finding common ground with new people when it comes to sailing or sports is extremely easy.
Content from Youtube can't be displayed due to your current cookie settings. To show this content, please click "Consent & Show" to confirm that necessary data will be transferred to Youtube to enable this service. Further information can be found in our Privacy Policy. Changed your mind? You can revoke your consent at any time via your cookie settings.
Consent & Show
Lorient- day 3
My way to "La Base", the harbour in the morning is somehow so unique, the seagulls screech, the old moss-covered bunkers look threatening and between and in the bunkers there are boats, world-famous sailing brands and faces.
A place full of opposites.
It was my third day in Lorient and I thought I'd introduce you to Kenny: Why he sails Figaro and why he likes to sail Figaro with me right now.
After we rode upwind again for three hours, I captured a few impressions of the downwind for you.
Simply beautiful here!



Content from Youtube can't be displayed due to your current cookie settings. To show this content, please click "Consent & Show" to confirm that necessary data will be transferred to Youtube to enable this service. Further information can be found in our Privacy Policy. Changed your mind? You can revoke your consent at any time via your cookie settings.
Consent & Show
lorient - day 2
My second day in Lorient was certainly one for the soul. After debriefing and analyzing the previous day with videos, we went straight to the boats. Originally, the wind was forecasted to be very shifty and unsteady, so we wanted to practice maneuvers, i.e. tacking, jibing as well as setting and recovering the gennaker.
I was especially looking forward to this training because, as a rookie to this particular boat, this is exactly the practice I was previously lacking.

However, once on the water, the wind died down completely and we had to wait for about an hour for it to pick up again.
Which made for a perfect opportunity to inspect the boat thoroughly, and gather additional information for any assignments ahead with my co-skipper Kenny. Kenny is truly amazing. He came to France from Ireland three years ago, and knows exactly what's currently going on in my mind. Luckily, he shared his list of French sailing vocabulary with me, which truly meant the world to me.
Later, the wind picked up and the training group did what they seem to love doing the most - to run very intense speed tests.
Personally, it was a gratifying experience getting to know the boat sailing in light winds.

Honestly, this has been a day to remember!
Content from Youtube can't be displayed due to your current cookie settings. To show this content, please click "Consent & Show" to confirm that necessary data will be transferred to Youtube to enable this service. Further information can be found in our Privacy Policy. Changed your mind? You can revoke your consent at any time via your cookie settings.
Consent & Show
lorient - day 1
Today was my first day in Lorient and it felt like the first day of school all over again.
Early morning I sat in a classroom, where I met my new classmates. After class, I even received gifts from Lorient Grand Large, the training group. My teacher and coach is a somewhat grumpy-looking Frenchman who, while standing in front of his desk smoking e-cigarettes, conducts his classes exclusively in French .

Lorient Grand Large (abbr. LGL) is an elite training group in France in the Figaro class. Many participants in my group are among the top 10 best Figaro sailors in the world.
It is an honor and a privilege to join this exclusive training group, and I trust this will enable me to improve my offshore skill set in godspeed.

For the first training session, my co-skipper and I performed really well.
My key objectives were narrow situations, where I had to evaluate our boat speed, while navigating properly in order to avoid potential collision with other boats. As expected, some slip-up's occurred, as you can see in the video below.
At the end of training, the somewhat grumpy-looking French coach even drove by on his motorboat, flashing a smile and giving me a thumbs up.

My heart is full and I was extremely happy after my first day on a Figaro with LGL.